Aspin Crystal Viewer for AMSolve users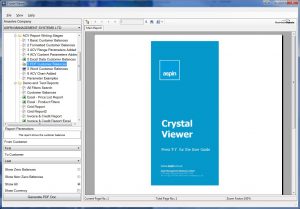 Using AMSolve on a day to day basis means you have a lot of data available for reporting purposes. Although there are many reports and listings available from within the AMSolve application itself, from time to time you may well need to produce a custom report.
In the past, you'd either have to use the IQ Report Writer or for more complex requirements – contact the AMSolve development team and arrange for the report to be written. But now we have the ability to give you direct access to the entire suite of AMSolve data files, so you can link them and make reports using the ODBC compliant reporting tool of your choice.
A number of customers we've spoken to, however, have suggested that this freedom is not something every AMSolve user in any one company would necessarily need. That said, the majority of users would want the to be able to request and run reports – written swiftly by a dedicated person in-house. We considered that requirement and decided to produce the Aspin Crystal Viewer (ACV), for exclusive use with SAP's Crystal Reports business intelligence application.
AVC gives you the ability to designate a select few people in your company as report writers (for each of them, you'll need to purchase Crystal Reports licence). For all other users in the company,
they can use ACV to run and view the reports. As new reports are required, your staff can request these to be written by your inhouse report writer(s). Once the reports are written, they are then available for everyone to view and run via ACV. Your reports can be as simple or complicated as Crystal Reports allows, from listings to subtotalled and parameterised reports that allow users to select ranges of, for example, dates, customers, products, product groups, orders, invoices or nominal ledger accounts.
As part of your ACV installation, Aspin will set up the links to your AMSolve data files and spend time with your designated report writers showing them how to set up Crystal Reports and, if you're new to Crystal, how to get going with report construction.
If you've previously used IQ, maybe you'll have some popular reports that need to be re-written in Crystal Reports; we'll be able to help with that. And, going forward, our support team will be available on 01794 500205 or [email protected] to assist should you need a helping hand with ACV or Crystal Reports itself.
If you'd like to discuss getting direct access to your AMSolve data files, or augmenting that access with Crystal Reports and the ACV, please contact us on 01794 500 200 or email [email protected].