Aspin host ICT teachers in Romsey
Last week it was time for the staff at Aspin to be on their best behaviour as a group of 26 ICT and Computing teachers descended on their Romsey office. They came as part of a course organised by the Independent Association of Prep Schools, designed to prepare teachers to deal with the changes to the curriculum which have been triggered by the government's decision to add more emphasis to computing and programming. This change has partly come about in response to companies like Aspin throwing down the gauntlet to the education sector to provide them with a continued supply of quality programmers.
Nathan Aspin (MD at Aspin) met David Horton – ICT Subject Adviser for the IAPS, course organiser and ICT Systems Manager at the school mutually attended by their children. After a discussion with Nathan about how he wanted to expose the teachers to the reality of a software company, in order to gain a better understanding of the environment they are preparing their students to work in, it was decided that David would visit the Aspin offices where Nathan would talk about the business.
First off, Nathan spent some time explaining the importance of maintaining the highest quality in both the core systems and support available.  He then passed over to Dave Morley – one of Aspin's senior PHP developers who gave a valuable presentation, explaining the importance of teaching computational thinking over and above specific languages. He bravely opened the floor to questions which only went to demonstrate how the course delegates had gained much insight through what he had to say.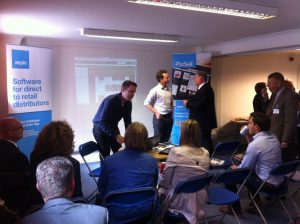 After a quick break for a Twix, followed some informal discussions, rounding off with a tour of the business to see how the business is split into departments – development, sales, support and finance.
Feedback from delegates about the visit was very positive – comments included having a 'broadened understanding of the industry', and an 'appreciation of the skills most valued by programmers and their employers'.
The IAPS is therefore, very grateful to Nathan and his team at Aspin Management Systems for giving up some of their precious development time in order to be part of creating a new generation of programmers. We hope that young people produced by our schools as a result of training like this will in turn allow companies like Aspin to continue to flourish as part of the UK's enduring reputation as world leaders in software engineering.