Aspin named as Housewares Innovations Awards 2017 sponsor
Aspin are pleased to announce that we will once again be involved in the Housewares Innovations Awards 2017 (www.housewaresinnovationawards.com). The event is taking place on Monday February 6th, at the National Motorcycle Museum, opposite the NEC. This coincides with Spring Fair 2017, where Aspin will also be exhibiting and providing support to our many customers using our PixSell iPad app for trade show order capture.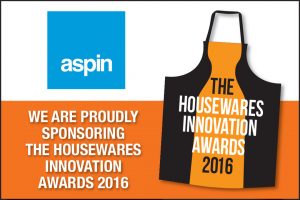 Aspin are sponsoring the Service Award. This is awarded to the distributor or wholesaler that is judged to be providing the best customer service to their independent retailers. In 2016 this was won by Kitchencraft, who use PixSell across their UK and European field sales team.
Once again, at the 2017 event Aspin will be hosting an evening table for customers. In 2016 we were joined by Warren Gell (Portmeirion), Tony Golby (George East), Jacqui Rayner (Creative Tops), Vicky Margetts (Kuhn Rikon), Pete Nash and Louise Ayres (DKB). The event took place at the Vox Conference Centre, opposite the NEC Lake.
Nathan Aspin commented, "Aspin are proud to again be part of this event, which allows both retailers and distributors in this evolving sector to come together. It is a great opportunity to spend some downtime with our customers, after a busy day at Spring Fair, and celebrate the people and businesses that are moving housewares forward."
As a business, Aspin has been working with the housewares industry for over 31 years, and are still supplying order processing systems to many of those early customers. In recent years, Aspin have continued to expand in this sector, supplying thriving businesses such as Grunwerg, Horwoods, Eddingtons, Churchill China and many more.