Aspin and K3 partner on Syspro ERP integration for PixSell
Aspin have joined forces with K3 Syspro to provide an integration module for PixSell iPad ordering and Syspro. The parties have identified a partnership to benefit distribution businesses that use Syspro and may be looking for an order taking system for their sales reps.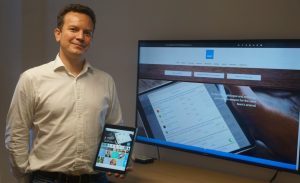 Head of Projects at Aspin, Richard Tapley and K3's Product Adoption Manager Darren Edwards have created a robust link between Aspin's DataBridge and K3's Dataswitch to enable sales reps to have access to key information from Syspro whilst out on the road, selling. Thanks to this collaboration, Syspro users can utilise PixSell iPad catalogue and ordering for their teams of reps. Activity management, order taking, questionnaires are just a few of the functions PixSell offers, with the ability of passing this information back to head office.
Equally, this information may come as good news to those considering a new ERP with an order taking functionality for the mobile sales team. With an integration module between PixSell and your ERP, your ERP data is incredibly powerful when passed to your sales team to help them make data-based selling decisions.
Speaking about the collaboration, Nathan Aspin, Aspin Managing Director said: "The work of Aspin and K3 Syspro perfectly complement each other. The middleware created by our collaboration will serve as a significant tool for a wide scope of industries from manufacturing, distribution and beyond, ensuring an enhanced customer experience remains the central focus for businesses. At Aspin, we are extremely excited about the potential of this software and our continued working relationship with K3 Syspro."
K3 Syspro are a welcome addition to our portfolio of Aspin partners, and we are delighted to be able to offer this piece of integration software to our clients.