Autumn Fair 2017: Highlights from Aspin
Earlier this week we attended Autumn Fair at the NEC in Birmingham – and were delighted to catch up with many of our clients at the show. Here are our highlights with photos….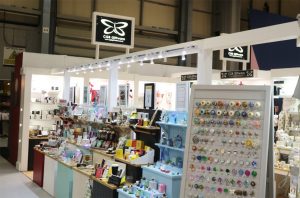 Giftware specialists Container Group Buying fully launching PixSell at the show. "PixSell has been game-changing for us." Container Group Buying and Aspin joined forces in early 2017 to transition their 7 sales reps to iPad ordering. After testing the system at a previous trade show, and having received training from Aspin – the app was launched fully at Autumn Fair.
"Before PixSell we were using order forms to take orders," Director Niall Marks told us. "We would then have to send photos back to head office with the order which was a very long winded process. With PixSell the order is sent straight away with no hassle. Particularly at this trade show, we have found that it is now much easier to see more customers in a day. Using the iPad also looks much more professional. We are looking forward to using the system more frequently at future trade shows and out on the road."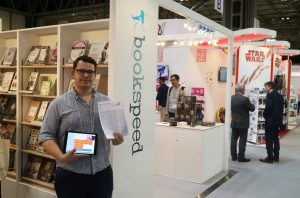 Bookspeed gear up to replace paper price lists with PixSell. Edinburgh based book wholesalers Bookspeed have recently acquired the services of Aspin to change their way of taking orders with PixSell. Due to go live by the end of 2017, we spoke to National Sales Manager Dean Rougvie at Autumn Fair to understand what PixSell will do for the business.
"For us, 'PixSell in action' was an easy buy," Dean said. "Besides the speed in which we will be able to take orders in, it is the presentation and the ability to show new lines which will benefit us the most. Alongside toys and gifts, we mainly sell books and the new items are changing all the time. Whereas we would previously have to show these on large order forms, with PixSell  we will be able to instantly present the new items in stock and make new suggestions to our customers. Being able to show a customer their previous order history will bring us huge benefits as well."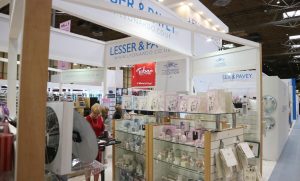 Lesser & Pavey reinvest in PixSell – implementing new rep activity module. Aspin clients since 2003, home and giftware suppliers Lesser & Pavey have continually evolved their way of taking orders – first using Aspin's MiniSell software, and now PixSell. As part of the continued strong working relationship with Aspin, Lesser & Pavey are further developing PixSell – adopting the 'Activities Module'. This will allow all sales reps to record and monitor all future activity  – and make it easier for managers to have more visibility over rep movements.
"PixSell has brought many benefits to us – which are particularly notable during trade show season", Jonny Greves, buyer at Lesser & Pavey told us. "It's ease of use and the speed in which we can take orders means we can spend more time with each customer. It is great that we can continue to improve our way of taking big orders, through developing PixSell."
For more information on our products and services, you can contact us on 01794 500 200 or on info@aspin.co.uk