Fancy a little PixSell version 2 teaser?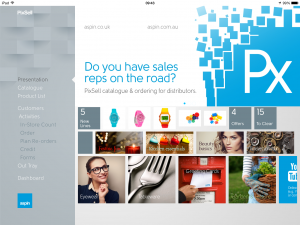 Aspin have been all hands on deck of late (yes, even more than usual!) and as a result, we've seen quieter times on the blog this summer – but it's all for a good cause! Our iPad app for your sales reps to take orders has undergone a major update and makeover – and whilst we felt it was pretty fabulous before, we are ecstatic with how it looks and operates now.
"When can I get my hands on PixSell v2.0?"
Aspin expect to announce the release of PixSell v2.0 next week!
"What can I expect to find in the new version?"
The best way to familiarise yourself with all the new features will be to download the app and test drive it for yourself. There will be extensive description available on the App Store to complement the release but until it is available, we are willing to reveal a few things to you all about version 2…
"Tell us more!"
The presentation screen has been redesigned to better reflect the needs of the user and can now support multiple branded banners to help key sales and marketing information stand out when your sales rep opens their app. In addition to this, PixSell can handle varying sizes and quantity of configurable tiles as opposed to the original standard 6 tiles per page available in version 1. These can be used to access collections and categories of products – all mounted on your colour branded background to match your corporate image. As a result of all these changes and updates, users will find their product presentations to be richer and easier to navigate – and will hopefully achieve more effective sales calls (see visual #1).
"What can I hope to see in the product catalogue?"
The product catalogue is home to an array of useful new features – our particular favourite being 'Associated Products'. Head office can create links between products to help their sales people cross-sell and recommend items to the customer based on their initial choices – perfect for helping your retail customers build a portfolio of your products for their point of sale (see visual #2).
"I'm not sure if I can wait much longer – how can I get more information?"
We can't either, and are very nearly there with the release – but if you have any questions in the meantime, do not hesistate to contact us on 01794 500 200 or email us at [email protected]