LED lighting installed at Aspin offices
As a business, Aspin feel that we have an ongoing obligation to be environmentally friendly. As part of our mission to become more sustainable and to reduce carbon emissions, we have installed LED lighting across the office. 
In just one year, the new lighting will reduce around 10,000kg of CO2 emissions – the equivalent of driving a petrol powered car on the road for 16.19 days, non-stop. 10,000kg of CO2 can also be generated by running a 42″ LCD television for almost 7 years, continuously (stats from YouSustain).
Over a three week period, approximately eighty LED lights have been installed throughout the entire Romsey office, along with emergency lighting panels. The lighting has replaced the older strip lighting which was in place previously.
The work was carried out by Hampshire based Electrical Contractors IDEC Ltd and will bring a wide variety of benefits to Aspin, including cost savings and reduced emissions. LED lighting uses no glass or pollutants, meaning the bulbs can also be recycled more easily.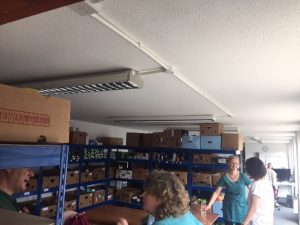 Our old strip lights which were replaced in the office have been donated to the Romsey Foodbank. The Foodbank provides emergency food to local people that may face a crisis during their lifestime. There are three locations across Romsey and North Baddesley. For more information on the work that the Foodbank does, visit their website: https://romsey.foodbank.org.uk/.