Looking for daily activity reports for sales reps?
Activity reports for sales reps fill the blank space when it comes to your sales reps and their schedules. To get the most out of your mobile sales team, you need to work with them to manage their time efficiently – and you need a system as a means of tracking your rep activity…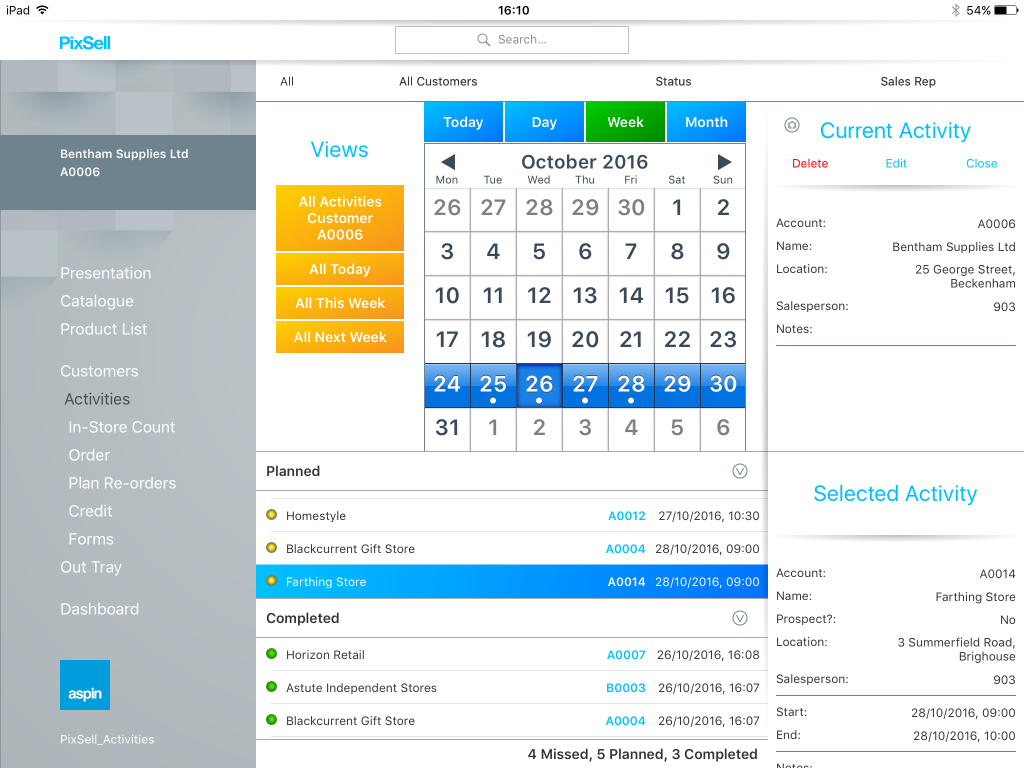 The Activities module within PixSell iPad app can enable you to fill this blank space and feel confident that your sales team are managing accounts regularly and meeting their objectives out in the field. Utilising the Activities module within the app, sales reps can organise their daily activities and sales visits out on the road with or without head office intervention, whilst senior managers are able to view online reports showing team activities and sales via PixSell's secure browser based reporting tool.
Animal feed company Mars Horsecare recently said "PixSell has enabled us to collect robust sales data and enhance our methods of reporting. Our sales team are equipped with everything they need at a touch of a button to take orders, contact and locate customers and view previous call data. The software is good value and user friendly."
Click here to learn more about PixSell.
Main calendar screen
The diary planner enables reps to schedule sales activities for any given customer account, or start appointments spontaneously. The user can view planned activities for the same day, week or month ahead, by customer or by territory and be reminded of missed visits via notification alerts until they are rescheduled.
Full tracking with GPS logs
The activity date, start and finish time, and location (if GPS signal available on 3G/4G devices) are recorded automatically within the module. The Activities module prompts the user to finish an activity before starting a new one and consequently reduces 'end of day' admin for both the sales rep and head office staff.
Reduce admin with call cycle notifications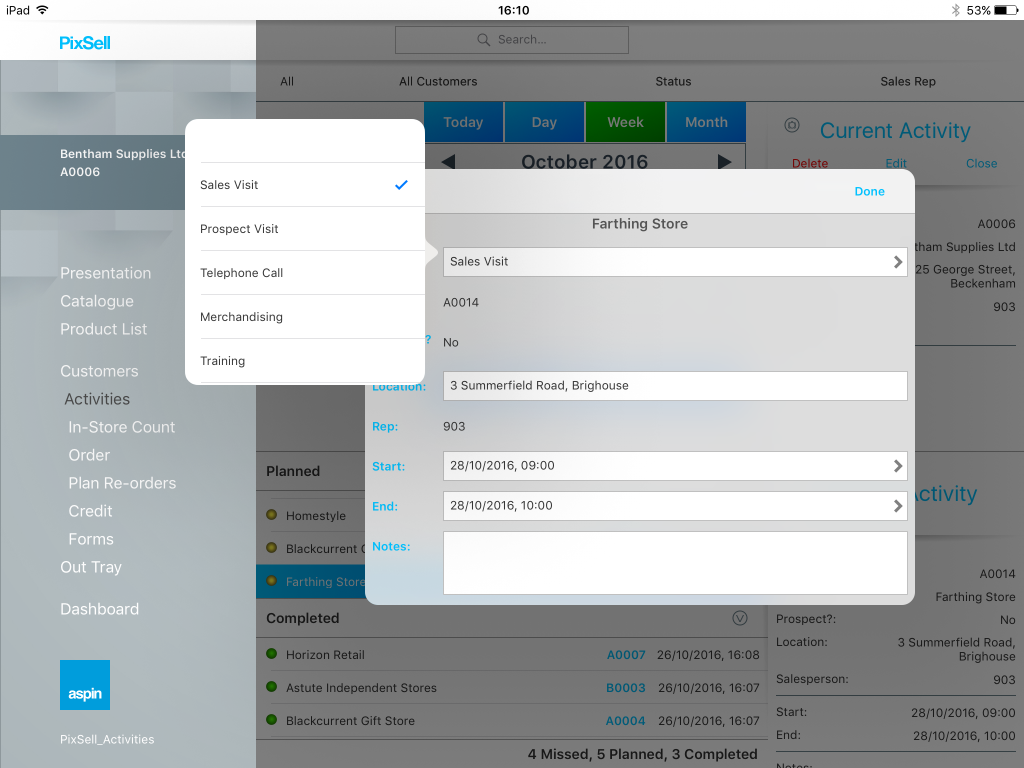 Once a visit is complete and an order taken, PixSell notifies the user to re-book the next appointment, this can be pre-defined to a call cycle (e.g. 4 weeks, 6 weeks).The gap between appointments can be set differently for each customer.
Meet call objectives
Sales Directors and managers can set compulsory call objectives against customers to prompt reps to introduce new collections, assess the point of sale on the customer site and obtain data against the customer. There is also a free-type space to add notes which can be used to enrich the information collected against the customer.
Smarter visibility and simple tracking for managers
Senior management can access sales figures and movements of their mobile sales teams at any time using the cloud based online reporting – log in from anywhere at anytime. Within the reporting, users can drill down, view call details across the team with total visibility of all sales activities for any given day, week, month, date range, call cycle or all history, giving greater insight into field sales processes and sales rep performance.
Reports working well for Citizen
For Citizen Watch UK, the field sales teams count stock, take orders, and obtain business intelligence on our PixSell iPad app, whilst the merchandisers are predominantly CRM driven and perform stock counts. "We were looking for an incorporated system, accommodating differing call objectives across the sales people and merchandisers employed in the field, with the ability to take photos and pass those back to head office being a strong requirement. The system needed to deploy all of these capabilities and directly import the data for order processing and interrogation back at head office. Aspin were able to meet these requirements with PixSell."