PixSell customer success at the Excellence in Housewares Awards 2017
The 2017 Excellence in Housewares Awards took place earlier this week, celebrating the achievements in the industry across the year.

Held at the Royal Lancaster Hotel in London, the event recognised the UK's best housewares retailers, suppliers and the most innovative products. As a supplier, Aspin has worked extensively in the housewares industry to deliver sales excellence among distributors and their reps and agents for over 10 years – and we were delighted to see some of our customers win awards.
Kitchencraft and Eddingtons both use Aspin's iPad ordering solution PixSell to present products and capture orders at trade shows and face-to-face with a customer. This year Kitchencraft took home both the 'Excellence in Homewares' and the 'Excellence in Service' awards whilst Eddingtons won the 'Top of the Table' award for their Epicurean Melamine Tableware range. It's fantastic to see our customers get the recognition they deserve in their industry.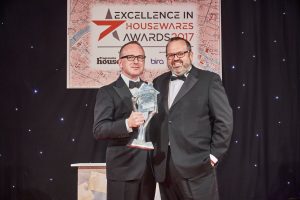 Alan Hawkins, CEO of the British Independent Retailers Association commented: "The awards are driven by innovative products, which try to make consumers lives easier, as well as bring smiles to their faces. Retailers in this industry go above and beyond for their customers and they are genuinely passionate about what they are selling."
As a longstanding supplier to the housewares industry, Aspin offers both iPad ordering and trade websites to a range of clients. Many more of our housewares customers attended the Housewares Awards and were up for nominations. You can see who else we work with in this industry here: https://www.aspin.co.uk/housewares/
You can view the full list of winners here: http://www.excellenceinhousewaresawards.co.uk/