"PixSell has been resoundingly positive for us" – Mr Fothergill's
From their offices in Newmarket, Mr Fothergill's distribute seed to garden centres, shops and retail outlets. They chose Aspin as their vendor to provide an order taking system for their sales reps. Mr Fothergill's upgraded from MiniSell to PixSell iPad ordering and have been extremely pleased with the results.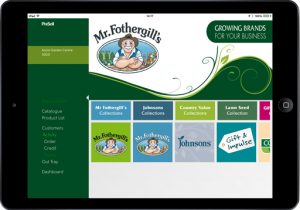 "We chose PixSell mainly for the potential we saw in having a common visual presentation tool for our sales reps. Having used MiniSell for calls and order taking over the last 5 years we already had an established relationship with Aspin and the migration over to PixSell was very smooth.
Implementation with our ERP was simple as most of the data exports remained the same as MiniSell. Our sales reps have now been using PixSell for 5 months and the feedback has been resoundingly positive; capacity for volume barcode scanning was really important and this works with speed in PixSell! It has improved our turnaround time for credit processing, plus the catalogue and presentation features provide a far more modern way of interacting with our customers."