"The app is very easy to use and runs very smoothly." – Umbra
With a global sales team spanning the United States, South America, and Europe, Toronto based giftware distributor Umbra rolled out PixSell back in 2014.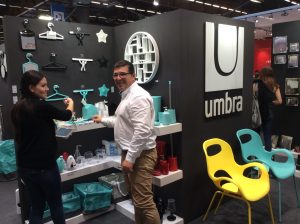 Umbra's business requirements were very specific; the iPad catalogue ordering app must support multiple currencies, global territories and various languages depending on which region the rep or agent works in. We asked Umbra's Florian Müller (Global Marketing Manager) to comment on the response to PixSell across the business.
"We are using PixSell as the order taking solution for our agents and at all tradeshows. The app is very easy to use and runs very smoothly. The entire Aspin team provides amazing support at all times."
PixSell enables Umbra's worldwide sales team to send orders back to the Toronto headoffice ready for fulfillment. Feedback from the sales team has been very positive – pictured is one of the sales team using PixSell at Maison Objet in Paris.
If you have a sales team and would like to explore what PixSell can do for you, please contact us on +44 (0)1794 500 200.