PixSell version 1.2.083 AppStore release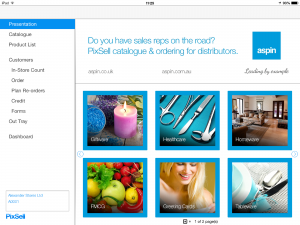 PixSell version 1.2.083 has been released to the App Store. This is a major PixSell release, with some significant new functionality.
This includes a new reporting tool, that allows Aspin to deploy business specific reporting/analysis on a project by project basis, and also extend the number of standard reports available. These reports can either customer account specific or based on the reps territory. Furthermore the information can be presented either as standard alpha/numeric or in a variety of graphical formats. This data can also be exported to other applications using the standard iOS 'Open In' or exported in a CSV format.
We have also extended our existing support for foreign language and further streamlined both barcode scanning and printing to improve efficiency of the field sales process.
Full details of the latest release are below:
Reporting
New report generator for customised reporting
Export reports to other apps as a CSV file
Export PDF confirmations to other apps using iOS 'Open In' function
Orders
Dispatch date validation by order type
New parameter to allow automatic reset of catalogue filters when starting or closing an order
Barcode Scanning
When barcode scanning products, tapping 'Order' button returns focus to barcode field
New parameter to prevent auto accumulation of product quantities when barcode scanning into existing lines of an order
Customers
Customer 'Update Forms' can now be viewed from the customer record
Generate PDF order confirmations for historical orders
Plan Re-orders
General
Printer selection saved between transactions
Improved DropBox client performance
When using foreign language filter drop-down lists now sorted by translated text
If using multiple pages of presentation screen tiles, you can now return directly back to page one with a single tap