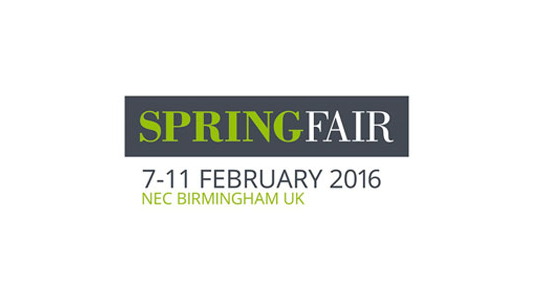 40 years buying and selling to the Housewares industry
With the 2016 International Spring Fair at the Birmingham NEC being the Show's 40th anniversary, it has prompted Aspin's Chairman John Aspin to reflect back over the many Februarys since 1976, during which time he has been associated with the annual Spring Fair show and the Giftware and Housewares trade sectors.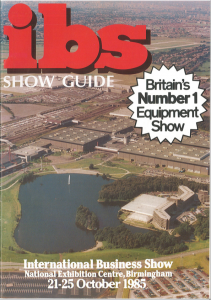 Back in 1976, I was working for Western Glass Works Ltd (now known as Western House) having joined them in 1974, I would jump in my Leyland Maxi and may have enjoyed Tony Blackburn or Johnny Walker on the radio on the way.
I started my working life in 1968 as a Management Trainee with B.O.A.C (now part of British Airways) specialising in Purchasing and Management Accounting. It was later, when I was Cabin Services and Equipment Buyer for B.O.A.C after I graduated in the early 1970s, that I met Tim Heppner, the Managing Director of Western Glass, and my future boss. I purchased from Western Glass drinking glassware for both the Boeing 707 and 747 airline fleets, and also for the recently introduced Concorde 'supersonic' service. Back in those days, you would be served with stainless steel cutlery, glasses, and china plates, cups and saucers – quite different to the compact plastic ware and disposable utensils you may receive on a flight today.
Subsequently, when Western Glass relocated from London SE1 to Basingstoke in 1974, Tim Heppner invited me to then join Western House, initially to assist David Crawley the Buying Director, in project managing the company's move. This was a time when Aspin's current Managing Director was just a toddler, and I had swapped my Triumph 1300 for a Leyland Maxi. I also at that time had a Leyland Mini, and fondly remember fitting a custom wooden dashboard, rev counter and racing style wing mirrors!  I later became Western House's Supplies Manager. Significantly, my move to join Western Glass was the beginning of my long business relationship with the Giftware and Housewares' trade.
I attended that first International Spring Fair in 1976, at which Western Glass were exhibiting, and I have continued to attend the Spring Fair virtually every year since.  The show used to consume Halls 1-5 back then, and you could smoke anywhere indoors – can you imagine people smoking at the show today? Despite this being something I have never indulged in, a smoky atmosphere was just something you were used to and it didn't seem to bother people. My annual visits to the Spring Fair until 1979 were in relation to Western Glass exhibiting, and then from 1984 after I had formed Aspin Management Systems Ltd.
It was whilst I was lecturing at Basingstoke Technical College in the early 80's I decided that my career path was to merge my knowledge of the Giftware and Houseware's trade with my then growing experience and understanding as to the commercial benefits of computerisation for small to medium size enterprises. (SMEs)   As a consequence, Aspin decided from the outset to design computer business systems primarily for the Giftware and Housewares trade, to produce commercial software that 'thought' like the companies in those trades. I knew it was especially important to address the task of managing extensive stock ranges to be supplied to large customer bases. Critically, Aspin needed to supply logistical and analytical reporting to enable our customers to succeed in the very fierce competitive market place that was the Giftware and Housewares' trade.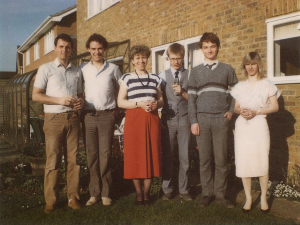 Aspin registered as a Limited company in 1984 and we had 6 members of staff. Popular haunts for the staff might have been The Bolton Arms or The Crown in Old Basing for a game of darts. Staff would dress smartly – collars and normally ties.
Aspin's first software product, back in 1984 was called ATOMS, which in the 1990s was renamed as UniSoft, and later in 1998 was greatly re-engineered and rebadged as AMSolve. AMSolve is still part of Aspin's portfolio of software solutions. ATOMS and UniSoft was installed in the 1980s for such Giftware and Housewares companies, as Western Glass, Heppner & Stent, and John Artis, and further included other well know companies such as Barbecco, John Jenkins, Bodum, Candlepower, HP Gibson, and Pomegranate. Today, Western House, John Artis, John Jenkins and HP Gibson are still successfully trading, and still rely on AMSolve as their back-office accounting and sales & stock management system.
Later in the 1990s Aspin produced specialised modules for AMSolve which addressed the operational and commercial requirements of Greeting Card Publishers. Publishers such as Carte Blanche, Noel Tatt, Images & Editions (now part of Otter House) and Paperlink all installing    AMSolve, and continue to use that software right through to the present time.
So in February, when I attend the International Spring Fair, and meet many old friends and acquaintances from the Giftware and Houseware's trades, my memories of the past 40 years of the International Spring Fair and will be very much in my mind.