Settling in at Aspin – the words of a new recruit
By Sam Crabtree.
I think it would be fair to say that starting a new job for anyone is a somewhat daunting experience. Upon graduating from university it took me a little under a month to secure my first full time job role, until then it was long, boring days submitting application after application, hearing next to nothing from companies I had put my efforts towards. At last, a couple of interviews started to come in, with Aspin the first on my list. I was greeted with a warm welcome and drink upon arrival and instantly felt a warm feel to the company that I very much liked from the get go. To cut a fortnight short, I was successful throughout both interview stages and awarded the job which – much to my delight – with this being both my preferred job role and the company that I would have gone for out of the interviews I had undertaken.
So, what have I been doing?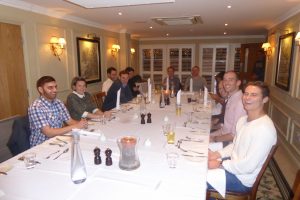 My first task at Aspin was an early 6:00am start with a 2.5 hour drive to the NEC, Birmingham where I had to visit existing and prospective companies at the Autumn Fair trade-show that use our products or could fit the 'Aspin mould'. My role for the day would involve learning about our product and services, gaining further insight to what my role would entail and finally working out how I was going to establish myself in my role and start earning commission. I found my first day exhausting due to the fact I did not totally know what I was doing and a lot of information had to be obtained throughout the course of the day. However, I was advised that the day wouldn't be the easiest start to my role, but nonetheless a great start – dropping me in at the deep end – with which I agree. Moreover, from the onset of my employment I have been fortunate enough to be involved in lots of different areas of the business thanks to Nathan, my Managing Director at Aspin. This has involved me shadowing meetings with existing customers and prospective customers alike to give me a feel of the content surrounding each meeting and how different departments influence and contribute to each individual project. I have also been attending conferences in London to expand my knowledge on the domain I'm working within so that I am fully competent in all areas – not just with Aspin's specific products – but the software business in general. After all, you need to have confidence and knowledge in what you are providing for the client. Now that I have an understanding of what is required of myself and I am able to use the applications and systems that the company use in house and provide for the client, I am able to get on with my own work. Setting up industry specific email campaigns, following up with a phone call and picking up where previous conversations had left off, managing accounts, and general prospect research make up the main activities of my day-to-day working life.
All in all the experience I have gained to date and the involvement that I have been allowed to have, has given me a strong sense of self-worth to the company and allowed me to feel comfortable and slip into this second generation family company just as I initially felt I could at the interview stages. Help, support and assistance are literally an email or phone call away to and from anyone within the business and it creates a great positive vibe for all employees to enjoy – and I don't believe I am alone in thinking this at Aspin!
What have I learnt?
"I need a coffee each morning"
A cup of coffee in the morning has been a very steep learning curve – haha. For me, it is essential now that I get that kick start to the day with an energy boost so that I can be on the phone and dealing with people with an energy that makes them want to interact with me.
"I have a variety of job roles"
Although my job title is 'Sales Executive' I have very much been involved in various roles around the company such as account managing and marketing. This has allowed me to learn different job roles and realise the strengths I can bring to the work place and how best to use them. I thoroughly enjoy taking on different tasks in order to better myself and the company, but also because it keeps each day different which is stimulating.
"Trust is key"
The air around the office is calm, and focused which gives an impression of autonomy and trust. I have learned that 'trust is key' through the directors of the company trusting employees to carry out the work they are supposed to. Due to this I feel everyone seems to give an extra effort and it results positively on everyone.
"Cakes are required for birthdays and special occasions"
One cake is enough, I need to watch the waistline.

"Pitch perfect"
With assistance from the sales team, I have been tailoring my sales pitch that I would use on a day-to-day basis. Jumping on the phone was harder than I first initially thought, it's not like chatting with your mates to find out what they're up to. Often, people are too busy to talk to me so I've had to develop a few skills and specific script to overcome some obstacles in the way of my end goal.
If you are interested in joining our team, please contact us on info@aspin.co.uk with a copy of your CV so we can keep it on file for our next recruitment process.