SkooCloud (Product Information Management)
Why brands, distributors and retailers need SkooCloud PIM
SkooCloud was made to deal with large volumes of product information – think hundreds of thousands of SKUs, each with hundreds of attributes including images.
SkooCloud helps you organise your product information, develop the right catalogues for your Omnichannel strategy, and deliver compelling product experiences to support great customer experiences.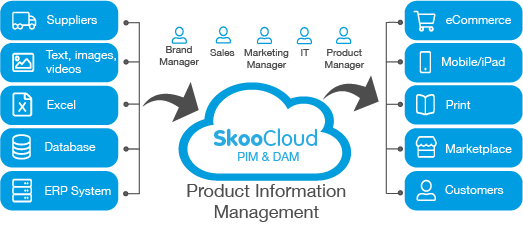 Centralise all your product information
We know you have product data coming from dozens of sources. You need a single source of truth for all your teams, for all your products, and for all your channels.  With SkooCloud as "product information central" you can control and manage the data and the process, making your teams more productive and efficient.
Distribute product data across all your channels
Spread your enriched and complete product information to all your channels in the blink of an eye. With our API, we can allow virtually every platform to hook into SkooCloud – eCommerce, web, mobile, POS, and print — so you can efficiently keep your product information consistent across channels.
Onboard your suppliers
Retailers often work with hundreds of suppliers, every one of them providing differently formatted documents, spreadsheets and images. That's a nightmare to manage. With Skoocloud PIM, you can offer a cloud-based supplier more onboard so suppliers provide you just the data you need… at the right time… and in the right format!
Speed your time-to-market
Got seasonal products? Keep up with changing consumer tastes and trends. SkooCloud PIM speeds the product information management and new product introduction process so you can get your products to market faster — across all channels and regions.